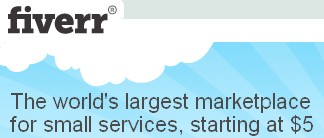 Fiverr started as a site where you can do anything for as little as $5 where you earn $4 and they retain $1 from your sweat as their service fee! Just like any other online money making site, Fiverr does not guarantee you a lot of money though you can make as much as you wish if you know what people want and which niches to base your gigs.
The good thing about Fiverr is you can use your earnings to buy other peoples gigs. This way you can buy gigs from this site and sell it on other sites like oDesk, Freelancer or Guru at a higher fee thus making more money. This is one way you can grow your online business without sweating and all these transaction are done at the comfort of your home through Paypal.
Secondly, you can post your own well researched gig and you can gain more mileage through advertising your gig through tweeter and other social networks though Fiverr has a large audience where you can get clients. Just like any other online earning site, you are presented with various categories where you choose your niche and once approved, you start getting inquiries and orders.
Depending on your turnaround and accuracy of your finished gig, you stand a chance of getting repeat orders and you might be overwhelmed by these orders. The shorter time you take to deliver, the more orders you get and the minimum time you should take is 1 day though there are gigs which take over seven days. Web design might take a week as compared to article writing which may take less than an hour to deliver. When you choose your gig, ensure it is not time consuming and once you deliver quality work in a short period, the more you might earn from the same gig. Do not suggest a gig which takes a week to deliver for only $4!
Fiverr is performance based and when you do not deliver on time, your rating goes down and your profile rating is usually displayed to the prospect and entire public and no one will order your gigs if you are rated low 100% being the highest rating.
If your performance in both quality and turnaround is excellent, there are currently new level where a clients can buy your gigs in bulk at one go. These bulk orders can be over $40 per order and if you are fast enough getting three or more of these is possible thus banking a cool $150+ a day. On the other hand you can opt for Express gigs which are given more priority than the normal ones.
It is therefore possible to make good money if only you search for best keywords for your gig and selecting a popular niche that is not time consuming. I do hope these invaluable tips will make you make an informed decision to join Fiverr or look for better online money making sites.
Check Here:http://fiverr.com/