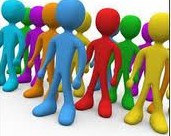 If you're looking to monetize your website, one of the best ways is to get people visiting again and again. After all, people rarely buy products on their first visit to your site, and if you're monetizing through pay per click advertising, you may have better success the more often people visit your website. There's a gray middle ground between people thatimmediately leave your site and those who visit every single day. Somebody who visits your website one time may find it useful, but not useful enough to return. How can you get them to come back? Here are 5 tips to help you retain your visitors and build loyalty:
Create a focus.
An unfocused site with too much information may be confusing for first-time visitors. If a person visiting your website for the first time can't tell what you write about or what you sell, then you may risk losing them. They might stick around long enough to parse it out, but then decide it's not worth the effort – and never come back.
Build loyalty by giving your website a focus. If it's not possible to center your website on just one thing, then try helpful categories and simple-to-use navigation. For example, if your blog deals with personal style, home decor and DIY crafts, then split each of these topics into their own page or category on your website. Not only will this help you retain visitors, you'll also be better able to figure out what your users like (and do more of it!).
Ease of use
Perhaps you're very well focused and you know exactly what your site is about. Of course, if your users can't navigate through your site, it's all a moot point. Make sure your navigation is simple enough for a first-time user to understand. Hidden drop-down menus and barely-visible sidebars can turn users away. Plus, if they can't find your content, they may miss out on it entirely.
Fresh content
A regularly updated site is a happy site. It's not enough to simply have a blog on your site – if your last post is from three years ago, you're showing your customers that you haven't had anything relevant to say in years. This could dramatically impact whether they stay or go. After all, even if that old blog post has tons of great information, once they've read it, what's keeping them coming back? Make sure your content is updated regularly to ensure that visitors come back for more.
Quality content
Of course, it's just not enough to have fresh content if it's riddled with typos or bad information. A lack of care for your content shows that you don't know your salt. Make sure that any content that's on your site goes through an editing process – even if it's just you rereading it to make sure you said what you meant to say, in a grammatically correct fashion. Along with quality content, make sure your imagery looks sharp and is relatively consistent. It's the little touches that impress users, and when they recognize your site as a font of fresh, good articles, tips and blog posts, they'll likely return for more.
Offer interactivity
One great way to bring people back to your website is to offer interactivity of some type. One simple type of interactivity is blog comments. However, forums or message boards can be even more powerful. If you don't want to commit to long-term interactivity, you might consider creating interactive content occasionally – for example, an email newsletter could bring visitors back to your site. At the very least, make sure you've included a contact form so that users with questions or comments can reach you.
Loyal visitors are one of the best types of people to have around your website. Because they visit often, they have more of an opportunity to interact with your brand, purchase your products, or even simply view your ads when you're trying to monetize your website. Try implementing these tips to bring people back time and time again – your loyal visitors could be your most lucrative traffic.