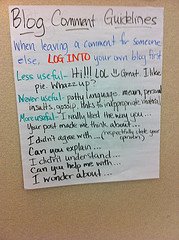 Getting lots of comments on your blog posts is a wonderful feeling and also great for business!
Not only do you feel good when someone writes an appreciative note, but having comments on your blog can also add credibility as it represents engagement, community and social proof.
Don't be afraid of people commenting on your blog either, unless you have a complete troll who simply needs deleting, intelligent arguments can be a fantastic source of traffic and conversation!
Would you like to learn how to get more comments on your blog?
Then read the following 7 tips:-
1. Write thought provoking and helpful content:
If you get people thinking or in some way solve their problems, generally they will feel compelled to comment! Sometimes the more controversial you are, the more comments you'll get, though please always be constructive and remember to Add Value!
2. Ask people questions at the end of blog posts:
Ask people if they found your post helpful?  Have they got any other tips they would like to share with you? A call to action at the bottom of a blog post, similar to this one will increase your comments no end. People like direction so give it to them!
3. Make it easy to comment:
Sometimes people need to fill in a lot of details like, name, email, website address, etc. to leave comments. This is a big No No! Make it easy for people to respond to you! Use easy commenting software like DISQUS or CommentLuv.
4. Respond to comments:
We touched on engagement above, this is hugely important. The more you build a relationship with your commenters, the more they'll come back to comment! Always respond when someone comments on your blog. People don't have to read your information, there's more than enough out there, so let them know how much you appreciate them!
5. Comment on other blogs:
If you comment on other blogs and let the blogger know that you like their website and their content, they will want to return the favour by commenting on your blog. The beautiful human law of reciprocity! So take just a few minutes every day to comment on other blogs that you find useful / helpful.
These are just a few tips to get you going. If you stick to them regularly, you should start seeing a lot of genuine people commenting on your blog posts.
Now it's your turn. Do you get a lot of comments on your blog posts? Are there any tips on you would like to share with us? Please leave your comments in the comments box below.