What Is Native Advertising?
Native advertising is the use of paid ads that match the look, feel and function of the media format in which they appear.
Native ads are often found in social media feeds, or as recommended content on a web page. Unlike display ads or banner ads, native ads don't really look like ads. They look like part of the editorial flow of the page. The key to native advertising is that it is non-disruptive.
Below is the list of Best Native Ad Networks for Publishers – 2018
1, Outbrain | Performance-Based Native Advertising Platform
Outbrain has the status of being one of the first native ad networks in the world. It is successfully serving thousands of publishers and advertisers around the globe since 2006. It essentially functions as a content discovery platform and is helping brands reach a wider audience by distributing their content across big media sites such as Fortune, CNN, The Daily Telegraph, Atlantic Media, ESPN, New York Post, Slate, and more. It also has a large network of small publishers.
Outbrain's Engage platform is a content recommendation widget which allows you to monetize your content and increase site engagement. Publishers earn revenue whenever a reader clicks on a sponsored recommendation.
2, Revcontent | The World's Fastest Growing Content Recommendation Network
RevContent is the industry leading content marketing monetization platform. It is a highly selective marketplace that creates specialized monetization solutions for the world's leading editorial content providers. They selectivity ensures that their advertisers see only the highest quality traffic, which translates to industry leading publisher RPMs for our clients.
Revcontent is presently serving big names in the publishing arena such as Forbes, NBC News, CBS, and so on. Some of its core features include a highly responsive widget, unlimited customization of the API, infinite scroll options, gallery implementations, and much more. It has proved its worth in various niches such as health, auto insurance, finance, and politics.
Large scale publisher who are looking to effectively monetize their sites unsold inventory benefit from RevContent the most as they are able to handle large amounts of traffic volume while giving them access to the industries top performing campaigns and offers. In addition they enable the publishers to run with them in an unrestricted manner, meaning there are no frequency caps, day parting, spend caps, etc.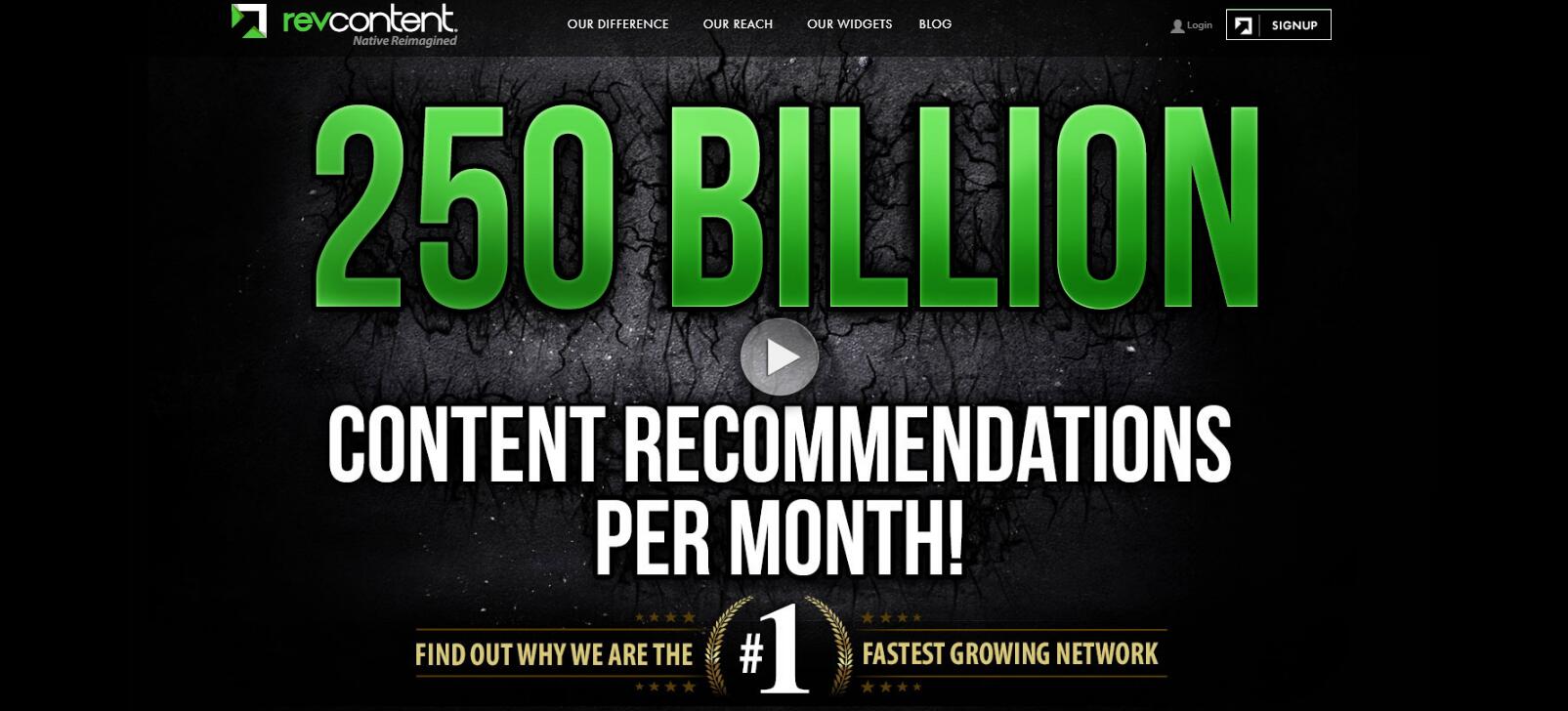 3, Taboola | Native Advertising & Content Discovery Platform
Taboola serves over 450 billion recommendations of content, products, and services to over one billion unique online users every month.
Our recommendations are powered by an advanced predictive engine that analyzes hundreds of real-time signals (including geography, context, device, social media trends, and more), in order to create a match between the content and the audience most likely to engage with it.
Revenue generated from sponsored items are shared with publishers, who can integrate Taboola across virtually any online destination, from desktop websites to mobile apps to email newsletters. These implementations can be customized to match the UI of the surrounding webpage.
4, MGID | Native Advertising Marketplace
MGID is a highly adored and hugely popular Native Ad Network. It is one of the oldest native networks operating successfully since 2008. MGID is credited with a huge web of brand managers, affiliates, media buyers, online retailers, and publishers. With MGID, you get an opportunity to serve your ads on over 3000 lifestyle and entertainment websites. MGID provides as much as 52 categories such as sports, finance, and parenting. So, you can target your audience quite nicely.
Not only this, but MGID also provides other targeting options such as a location, device, and a type of a browser. They provide widgets which are highly cohesive with website design. MGID constantly endeavor to provide best stories from top websites around the globe. Moreover, MGID served native ads work across all devices, platforms, and websites. It has clear guidelines and disclosures so you would not face any issue partnering with them.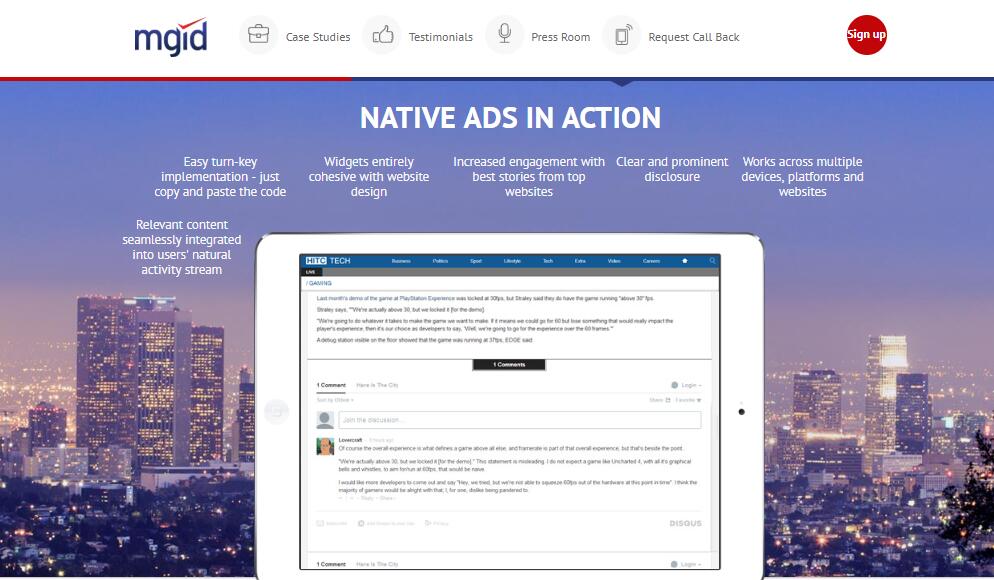 5, Content.ad | Seamlessly integrates branded content into web publishers.
Content.ad – Leading the Way in Content Monetization. Content.ad distributes high-paying premium content that doesn't look or feel like advertising and delivers engaged visitors to websites. Content.ad widgets can be set up to display varying amounts of sponsored content from 3rd party websites. When this option is selected you make 70% of the revenue generated from sending quality visitors to these sites. Over time, Content.ad will learn and optimize to show sponsored content that performs the best for you.
100% fill and industry leading revenue rates from a deep pool of advertisers. Units that are fully responsive for mobile, tablet and desktop, and adapt automatically to your pages.Exceptional service with personalized implementation support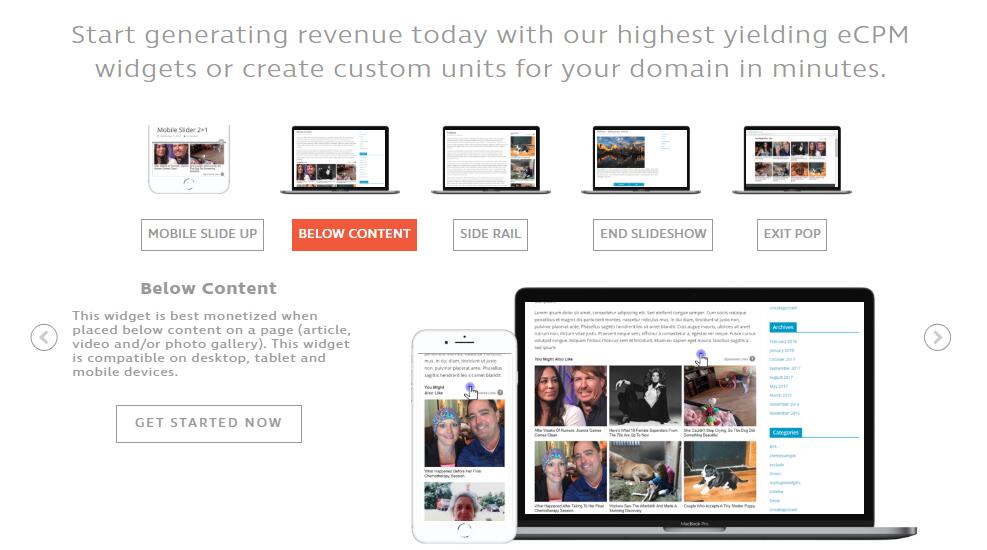 6, Native Ads | Native Advertising for Publishers, Advertisers and Agencies
With native advertising you don't have to choose between user experience and making money. Native ads promote engaging content with stories users want to read without changing the form and function of a website.
Helping publishers earn more money generating higher CPMs and CTRs with native advertising using content recommendation, in-stream, in-text and exit bounce widgets. Advertisers can increase conversions, engagement and brand lift with unique native ad formats.
7, Adblade | The Most Innovative Content-Style Ad Platform on the Web
Launched in January 2008, Adblade has built its business on unique ad units, and premium placements that allow both brand advertisers and top publishers to succeed in a crowded online marketplace.
Adblade is the most innovative content-style ad platform, enabling advertisers to reach over 300 million monthly unique users across hundreds of top branded sites with the absolute assurance of brand-safety.
Adblade's full suite of monetization solutions will help you grow revenue by attracting top advertisers, as well as help monetize inventory that's not currently generating revenue. Adblade's proprietary technology can provide you a roadmap of CPM values for every placement within your owned and operated inventory.
8,AdNow | Native advertising network – native advertising
AdNow is a relatively new native advertisement network. This premium ad network is offering widget based native ads for use by publishers on their website. The ad network has more than 150,000 publishers as of now.
Its RPM rates are comparable with the big players in the ad network market. AdNow can certainly be a good option for monetizing your site with Native Ads. It enables you to put an ad widget anywhere on your content. It is suitable for mid-sized publishers and bloggers. It works well in Russia and CIS countries.
Adnow provides 100% native traffic. Pre-moderated and safe, all publishers websites have search (60%) and social traffic core with a highly engaged audience. Average Adnow ad has about 2% CTR. It is a new and engaging way to get a high revenue of your content ads both for publishers and for content marketers.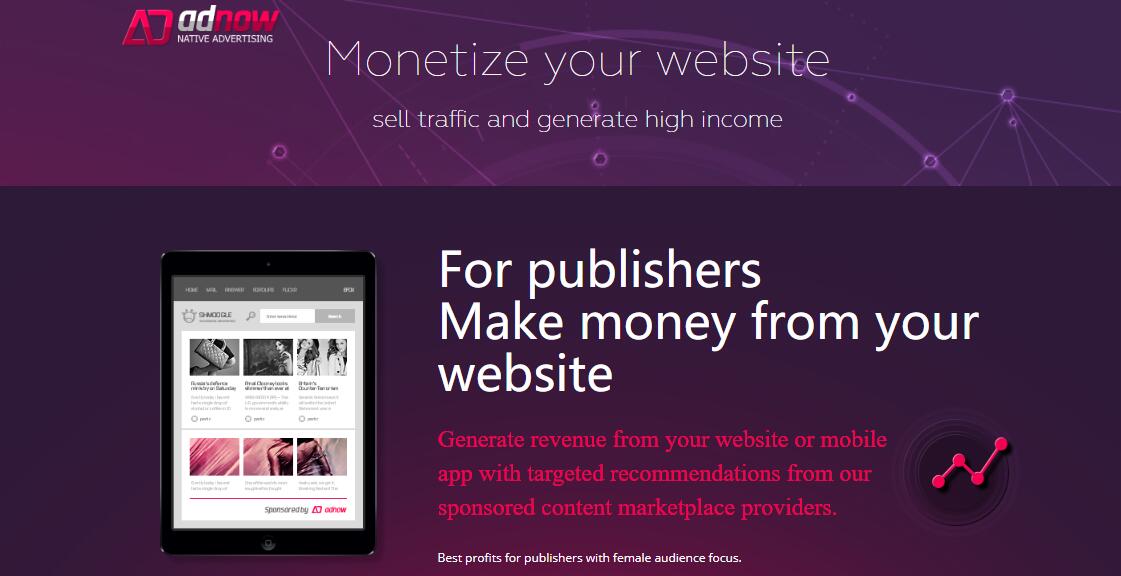 9, Ad.Style | Native Advertising & Content Discovery Platform
Ad.Style is a relatively new ad network that competes with such companies as Content.ad and Taboola. The network is relatively small at this point, but it appears to be growing quickly.
Their system was developed using the latest and most effective ways of providing the leading, life-changing click fraud solution to assure and give clients the effective and highest quality traffic service in the market. They are a platform which offers the publisher an easier approach in making new ways for monetizing their websites.
Ad.Style displays and shows the content of each device internationally. It boosts and attracts the viewers to be more attached to the content and deliver the right ideas of what the clients want to show to their target customers.
Newsmax Media, Inc., or Newsmax, is a multi-media broadcasting and digital publishing company founded in 1998. Since then the company has had seen phenomenal growth, averaging 40 percent revenue increases each year.
Newsmax Media is breaking new ground by offering direct marketers a powerful new native advertising network.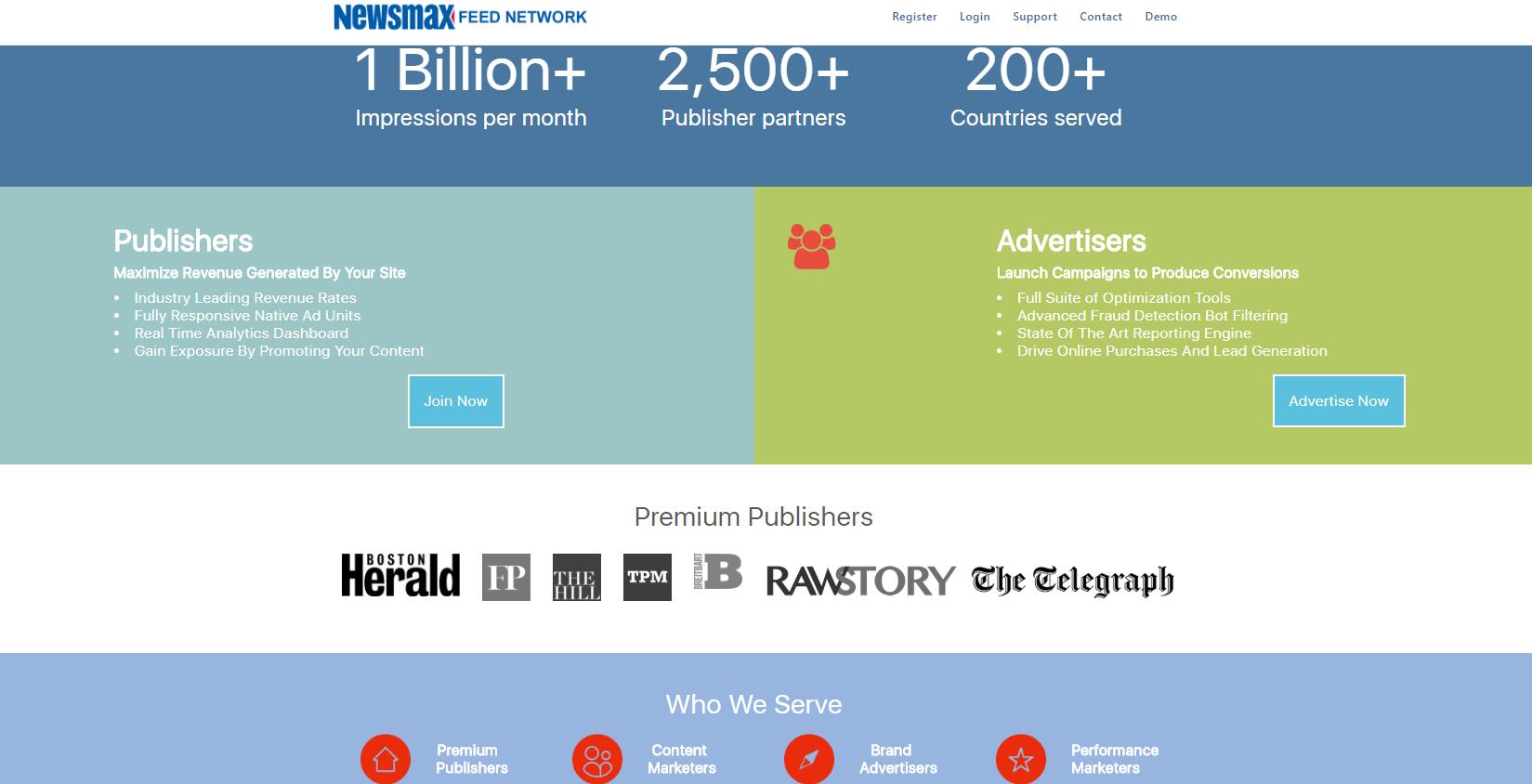 More Native Ad Networks for Publishers [Check Here]