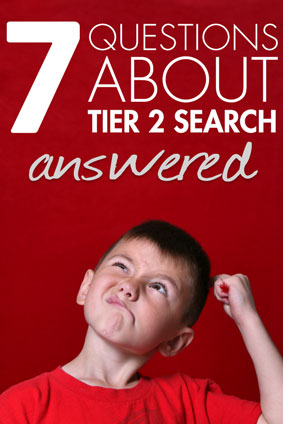 As you know, the "Tier 1" search engines; Google, Yahoo! and Bing, dominate search traffic.  In fact, they receive 95% of all search traffic. Yet, other options are available to search engine marketers. Where do the other 5% go? When used correctly, tier 2 search engines are often a viable way to make conversions with a minimal investment.
Often, marketers ask about the nature of our search network. Where do you get your traffic from? What is the experience like on a tier two search network? Or, do you own the properties the ads are displayed on?
We'll get to all that in a minute. In the meantime let's discuss what a "Tier 2" is not: a search engine.  We are an ad network of smaller search engines, search tools and websites that feature our advertisers ads on their properties.
"Tier 2" search networks include (in alphabetical order):
Adknowledge
AdMarketplace
Admedia.com
Advertise.com
Business.com
eZanga.com
Lycos
7Search
While the numbers may seem against them, tier 2 networks don't aggregate sources from just search traffic! In fact, there are online publishers all over the internet that deliver quality traffic through tool bars, domain parking, in-text and contextual ads. Advertisers who utilize this alternate search engine marketing technique are reaping the rewards! Let's explore the benefits of tier 2s, answer common questions and understand how your business can benefit.
1. Is Tier 2 really as valuable as PPC options on Google, Bing and Yahoo?
Yes, the search engine is just a gateway to all of these other properties that feature our ads. These are the same people that just came from a Google search, so why would they be any less valuable?  Because you aren't bidding against all of your online competition, keyword bids tend to be considerably lower on tier 2 search networks. For example, the top bid for the keyword "Car Rental" is $5.54 on Google and only $0.75 on Advertise.com. Of course, volume for keyword traffic on a tier 2 network is lower than a tier 1. Yet, low bidding costs mean more visibility and presumably, a higher sales volume.
Quality scores on Google have been a serious problem for some advertisers, but on a tier 2 network your rank is directly proportionate to your CPC. Interestingly enough, to promote high quality traffic, some tier 2 networks give the publishers a quality score. This is based on the quality of traffic they send, meaning less frustration for you!
Furthermore, knowing that you can't afford the "big guys" price might mean you get the same amount of search traffic on tier 2, but more on that later.
2. Is there really lower competition for keywords on Tier 2 search?
Since many advertisers are unaware of tier 2 options, you will often have less competition than on larger platforms like Google. Too often businesses with shoestring budgets suffer simply because of the overwhelming amount of competition for certain keywords on Google.
3. Is there more support on Tier 2?
Any successful campaign will take work which is why dedicated account reps are a huge help to turning efforts into ROI. Because there are less advertisers, tier 2s give you access to more personal support providing individualized attention to advertisers.
4. What are my ad placement options when using Tier 2 search?
Tier 2 search networks help you diversify your ad placement techniques by getting your ads in front of the same users you're paying for on Google while they're on sites that their search brought them to. These sites employ a variety of sponsored results like in-text ad units, on-page search results, tool bars, contextual banners and direct navigation.  Contrary to the "take it or leave it" approach of the big search engines, most tier 2s pass through traffic source ID's giving you the option of removing low performing traffic sources as needed, maximizing ROI.
5. Can I optimize Tier 2 Traffic?
Optimization with tier 2 varies greatly from that of the "Big Three." Here's why: Big engines assign an optimization based on keywords targeted and ad copy. This is true with tier 2 networks as well. Tier 2 has the added benefit however of removal of low performing traffic. With this ability, quality tier two networks are creating a customized and optimizednetwork of traffic, delivering the best value to your PPC campaign.
6. How can Tier 2 search networks get me more traffic?
Aggregating traffic from multiple sources, each network has the potential to draw in targeted audiences. Alternative networks also have partnerships with popular magazines, blogs and new sites. In many cases this can be exclusive with tier one networks having little to no access to this segments. 
7. How do I choose Tier 2?
Not all tier 2s are created equal. The good news is, you don't have to commit to any one network. Set a side a test budget and goals for each one and give them a test. Depending on their publisher partnerships, the traffic might perform differently from one advertiser to the next.
To help make your choice, consider each of the following:
Experience: Does the network have a longstanding track record in the industry?  Can they share client successes?
Targeting: What options do you have? Scheduling? Geo? Day/Hours? Mobile/Desktop?
Tracking & Optimization: Can you track your conversions on a traffic source level and remove low performing sources from your traffic mix?
Partnerships: Learn more about what type of traffic sources the network is partnered with.
Fraud prevention: Tier 2 network traffic largely comes from non-proprietary websites so it is important to have a technology to monitor and prevent fraudulent or low performing clicks.
Traffic channels: Be sure to share your goals with your account representative, they may have traffic channels that Google doesn't offer like Run-Of-Network which offers high volume at bids starting at $.01.
Customer support:  The "set-it and forget-it" approach doesn't work with tier 2, it takes a little work to exceed your goals. Make sure there is dedicated support available to help you along the way?
Getting your campaign up and running is a straightforward process. Take a critical look at your Google/Bing campaigns and see what works best. Is it a high conversion rate? High volume? Niche traffic? Import these campaigns and join these successes to a new network and expanded audience.
Stop feeling held hostage to Google and Bing. The Calvary is here! Add tier 2 search networks to your search engine marketing campaign and reap the benefits.  Bid on desirable keywords with less competition, pay a lower cost-per-click, diversify your ad format and target the best audience through under-utilized search engines and sites. Tier 2 experts can guide you through correctly using this "secret" PPC option