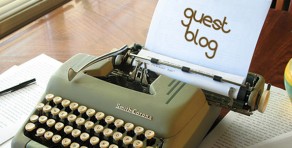 While many have discovered different methods in creating and promoting their content online, guest blogging is becoming a powerful trend. Rather than posting a blog to your own blog site, through guest blogging you post your blog to another blog site. Although some may question why post to another blog site, guest blogging offers online businesses and individual bloggers alike many benefits.
Build brand awareness: Guest blogging allows you to build brand awareness of your company and enhances your reputation. Whether you blog for your company or write as an individual blogger, guest blogging allows you to get your name out to the online community and build your own brand.
Increase your credibility: When you post on your own blog site, there's no one there to judge your content other than you. But, when you post on another blog, the blog owner has the authority to accept or reject your blog. Having your content posted on another blog site means that someone else trusts your content, therefore increasing your credibility.
Generate traffic: Because you're posting to another blog which already has its own traffic, your blog will now get picked up by that traffic. Also, since you're not writing a ghost post and get credit for your writing, online readers may start following you on your own personal sites, including your social media sites.
Achieve higher search rankings: Through guest blogging, you can create links within the content as well as your author bio that link back to your personal site. This helps increase your link building efforts and helps you achieve higher search rankings.
Improve your writing: One trick of the trade when it comes to blogging is that the more you write, the better you become. As you continue to produce and create blog content, your writing improves. As mentioned above, since you're posting to another blog, the owner has a right to be picky. But, the more engaging, unique and original your content, the easier it is to be accepted as a guest blogger.
Additionally, if you're interested in guest blogging, there are a few things you should keep in mind. First, make sure that you find a blog site that is not only relevant to the topic you are writing about, but ablog site with a high domain and page authority and rank. Also, be aware of the word length requirement as well as the guidelines for guest blogging.
You should spend time reading the sites you're interested in posting on to get a feel for the content. Be sure to create an author byline that links to your personal site or your social media sites so that online audiences can find you once your blog is published. Lastly, once your content is live, share it and respond to comments by readers.