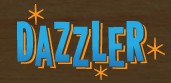 Dear AffinityClick Customers!
The AffinityClick service will be shutting down on August 15th 2012 to make way for our brand new service offering Dazzler!
We want to thank everyone who was part of the AffinityClick program over the last two years. We have listened to your feedback and as a result, the Dazzler! brand was born to create a robust, more powerful, and relevant monetization platform for our customers.
All outstanding AffinityClick  payments will be made and deposited to your Paypal account on September 5, 2012 and will be based on the balance of the last day of service. Sorry, we cannot payout if you don't have a paypal account so we urge you to update your account before the end of service date.
Due to the underlying changes of the technology,  our customers will not be migrated to the new service and will need to sign-up for Dazzler! directly. We encourage you to be a part of this beta program and simply signup at http://boot.dazzler.com/ to be placed on our beta list on a first come first serve basis. Once it's ready, we will be sending an email to let you know we are live.
Should you have any questions, please do not hesitate to email us!
Best Regards,
The AffinityClick Team!