Ad Butler is a hosted ad management system that can help you manage your online advertising. It is easy to use. Very easy, and doesn't require any technical expertise on your part.
Powerful, easy, and flexible ad serving tools. We help publishers big and small create custom ad serving solutions with an intuitive interface, a robust API, and friendly support.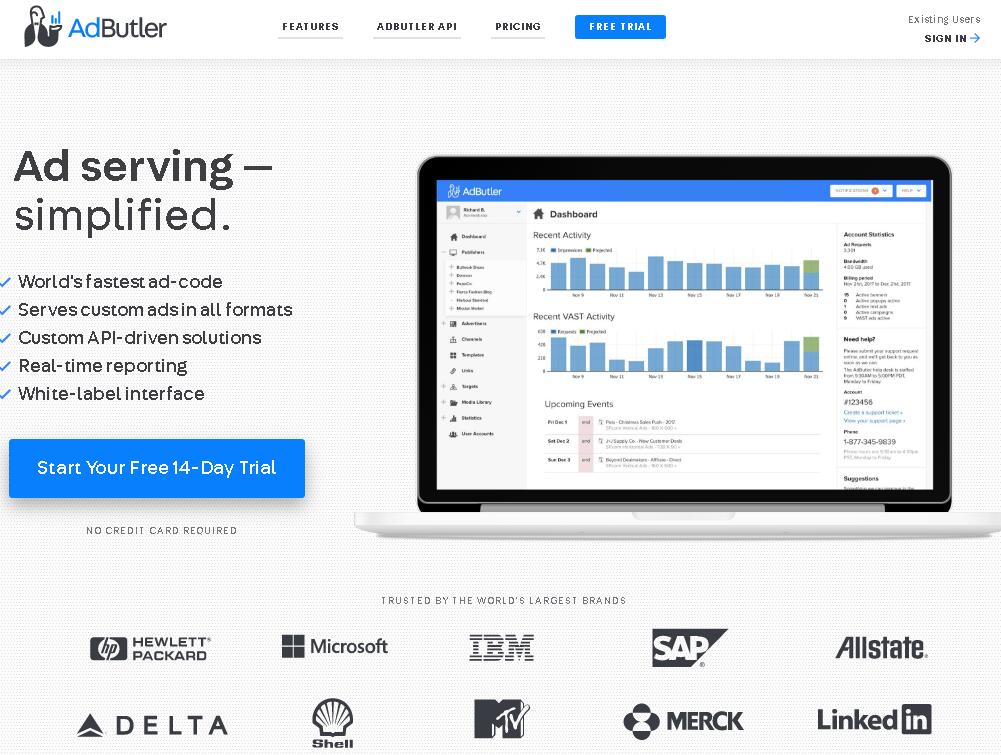 The Company
The site Ad Butler has been around for some time now. It was registered on March 1999 by Sparklit from British Columbia. You will find that the company is all over the internet from social media sites like Twitter to LinkedIn. They offer exceptional customer service by phone or email.
The company has been around for quite some time. You can rest assure that they have the experience and know how to help you with your advertising needs.
AdButler Platform Features Include:
Scalability – Dependable and guaranteed scaling as demand grows, from hundreds to billions of impressions.
Header Bidding – AdButler auctions enable publishers to mix direct sales with multiple header bidding partners to maximize revenue.
Rich Media Ad Support – Serve all creatives, including HTML5, video, flash, images, email, mobile and asynchronous ad calls.
Video Ad-Serving (VAST) – AdButler's simple to use VAST 2.0 compliant module will save you time and heartache.
Instant Reports – Instant access to dynamic, realtime reports.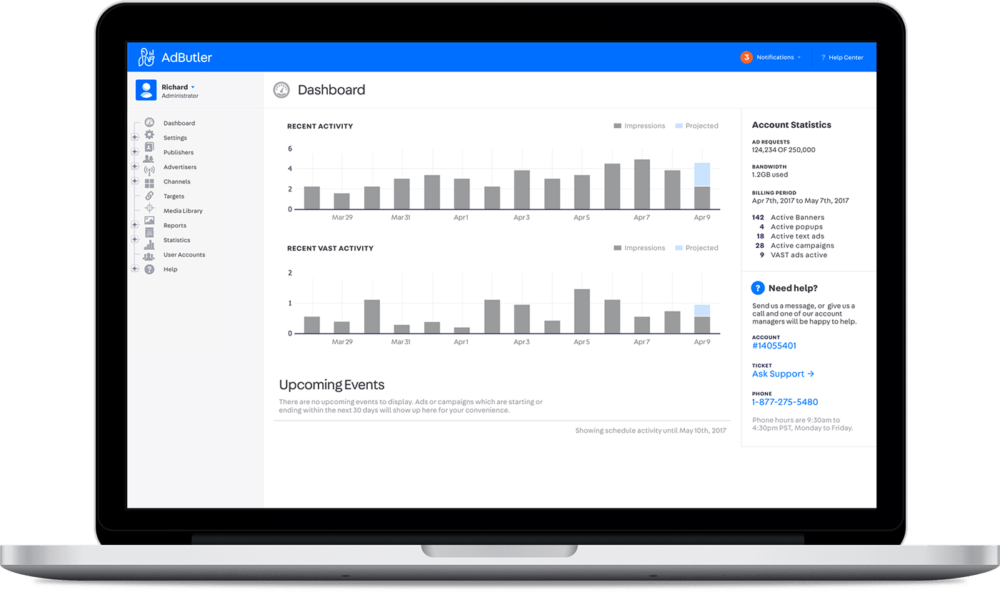 I took AdButler for a test drive and was really impressed with how well-built the system was. If it weren't for one missing feature, I would have fully implemented it on the site… self-service. I wish the site had an open inventory page and the ability for advertisers to serve themselves. Additionally, integration with a payment gateway for collecting ad revenue from advertisers would be great.
If you're managing your own sites and advertisers, though, AdButler is quite a feature-rich platform.
AdButler Ad Serving Options Include
Advanced Scheduling
Pacing – AdButler balances out your campaign delivery over time for an even distribution of impressions.
Frequency Capping – Limit the number of times an ad will show to a specific user.
Day Parting – Target ads based on time of day.
Audience Targeting
Geographic Targeting – Target ads by country, province or state, or even as specific as city.
Platform Targeting – Target and serve ads depending on which device users are visiting on.
Keyword Targeting – Target ad campaigns by keywords including wildcard matches.
Easy Management
Multiple User Accounts – Create as many user accounts as needed to manage and serve inventory.
Advertising Channels – Group similar advertising from multiple advertising sources into a single, easy-to- serve ad channel.
Helpful Support – AdButler's support team is available via phone or e-mail.
There is no reason for you not to give them a go with their 30-day money back guarantee. So, if you are wondering if Ad Butler is for you, well, that is something you will have to find out. Is the site safe? Yes and your payment is processed over their secure server.
Site URL: https://www.adbutler.com/
Review  More Adserver