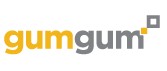 LOS ANGELES, CA–(Marketwire – Dec 19, 2012) –  GumGum today released the findings of an advertising effectiveness study demonstrating that in-image ads significantly raised awareness of a new comedy series for a major broadcast television network client.
According to the study, administered by online ad technology company Vizu, a Nielsen company, GumGum's in-image ads generated an overall brand lift of 5.3 percent across all creative formats, with its custom animated rich media unit driving even higher lift at 8.8 percent. The study also identified the optimal campaign frequency, with 22.4 percent of respondents exposed to 3-4 impressions stating they were aware of the new show.
"No matter the medium, brand marketers are looking for proof that their strategies are driving the desired result of brand lift," said Dan Beltramo, Executive Vice President of Product Leadership, Nielsen. "We're pleased to provide that proof for GumGum, and help validate the effectiveness of the in-image advertising format."
Using an intelligent survey-based methodology, the study asked users who were both exposed and unexposed to the campaign if they were aware of the program and competing shows airing at the same time.
"We've known for a long time that in-image ads outperform standard ad units on an engagement and click-through basis," said Ophir Tanz, CEO of GumGum and creator of the in-image advertising format. "Having empirical data proving its effectiveness for brand objectives is great validation for the in-image category and a testament to our image recognition and targeting technology."
In-image ads are contextually targeted rich media units, dynamically sized to fit across the bottom of images within GumGum's collection of premium publishers. First introduced by the Santa Monica-based advertising technology startup in early 2008, the new ad unit has been receiving attention lately both for its higher performance among advertisers and the ability to drive incremental revenue for publishers.
The complete study can be downloaded at http://blog.gumgum.com. Examples of recent GumGum campaigns can be viewed at http://www.demo.gumgum.com.
About GumGum
GumGum is the premium in-image advertising platform for publishers and brands. Reaching millions of consumers as they actively view images across hundreds of premium websites, GumGum serves contextually relevant ads that yield far higher engagement than those of traditional display advertising units. In addition to helping advertisers reach highly targeted audiences in a brand-safe environment, GumGum gives publishers a new way to earn revenue by overlaying interactive ad units on the photos within their sites. Founded in 2007, GumGum is headquartered in Santa Monica, California. Investors include NEA, GRP Partners, First Round Capital and Crosscut Ventures. For more information, visit http://www.gumgum.com or call (310) 260-9666.
SOURCE: GumGum