From CPMLeader mail notice:
we have increased CPM rate for United States. Now you will earn $1.15 per 1000 banner impressions! Place 3 different banners on one site and you will earn up to $3.45 per 1000 banner impressions!
Send us all your US traffic. More traffic = Higher CPM rates!
Cpmleader Rules:    300×250 HIGHEST RATES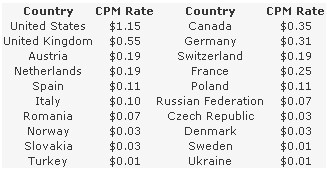 1. You can place max. 3 different codes per page
2. It is prohibited to place ads on the sites with illegal content or no content
3. Ads must be visible without scrolling and can obtain some CTR
4. Do not change our codes
5. Using img tags, autosurfs, manualsurfs and other systems, 1×1 iframes and auto refreshing sites is forbidden and all accounts will be banned!
6. Do not use multiple accounts
7. Visitor must see banner at least 30 seconds
8. No adults and warez sites
9. Do not click on your ads!
10. Do not refresh your site automatically
12. We count 1 impression / 1 banner / 24 hours11. We support third-party ad networks
13. All payment requests are processed within 45 days from the day of request (usually in 14 days)
14. You are responsible for site content where ads are being displayed
15. You are fully responsible for traffic you send to us and if advertisers reject to pay us, we cannot pay you
16. You will earn 15% of the referred publisher's earnings. Affiliate payout minimum is $5. Affiliate payments are made every month automatically. Affiliate balance is separated from publisher balance.
17. Answer all our mails!