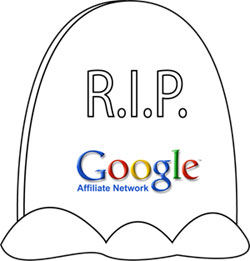 We all know about the news Google has broken out about Google reader. According to Google, one of the reasons they were decommissioning Google reader was because its usage has declined, and as a company prefer to pour all their energy into fewer products. Sort of saying it was not profitable enough.
Following the sort of same decision as they did on Reader,Some time ago I received an email from Google Affiliate Network Team , announcing the official retirement of the network on July 31, 2013 .
Here's an excerpt:
Important updates for Google Affiliate Network publishers and advertisers
Our goal with Google Affiliate Network has been to help advertisers and publishers improve their performance across the affiliate ecosystem. Cost-per-action (CPA) marketing has rapidly evolved in the last few years, and we constantly evaluate our products to ensure that we' re focused on the services that will have the biggest impact for our advertisers and publishers. To that end, we've made ​​the difficult decision to retire the Google Affiliate Network and focus on other products that are driving great results for clients.

Publishers can continue to earn revenue through the AdSense network . And marketers can take advantage of other CPA-oriented Google tools like Product Listing Ads, remarketing and Conversion Optimizer to drive valuable online sales and conversions. These areas are growing rapidly and we continue to invest significantly in them.

…. We plan to disable publisher relationships from advertiser programs on July 31, 2013. Publisher payments will be disbursed for network activity generated through this date. We will continue to make certain functionality available through October 31, 2013 for retrieving reports, reconciling orders, and processing payments.
There you have it. You may or may have not been using the Google Affiliate Network. If you are using Google Affiliate Network, make sure to begin taking those links and banners down, as it soon will disappear.