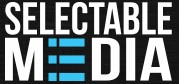 NEW YORK – For the first time, brand advertisers can deliver their content in an ad selector format on mobile and tablet devices, creating a powerful new way to deliver video to mobile consumers. Selectable Media, a leader in enabling consumers to unlock digital content through advertising, announced it is expanding its relationship with top game developer 50 Cubes to bring its choice-based ad selector technology to their mobile games.
"While time spent on mobile and tablet devices continues to grow rapidly, brands have had a hard time telling their story to mobile consumers," says Marc Rothschild, COO of Selectable Media. "Standard ad units that have worked on the web have not translated to mobile. With our user-initiated, Select-to-Unlock platform, our mobile campaigns are seeing completion rates of more than 96 percent and click-through rates of higher than 10 percent. By translating our unique solution to mobile, Selectable Media continues to drive better results for consumers, publishers and advertisers across all devices."
Ad selector models drive superior performance for brands, including 290 percent higher ad recall and 109 percent click-through rates when compared to standard pre-roll, according to a study by Vivaki. Selectable Media's Select-to-Unlock platform has demonstrated results for clients like NBC, Wendy's, Kraft, HBO and Samsung by using consumer choice to spur greater engagement among viewers. By extending its relationship with 50 Cubes to mobile, Selectable Media continues to scale its ability to provide innovative ad solutions to its brand partners looking to reach an engaged, on-the-go audience.
"At 50 Cubes, we believe that users feel more empowered and are most engaged, when better content is delivered with more choice," says Jack Wu, CEO of 50 Cubes. "That's why we decided to integrate Selectable Media's ad selector solution into our mobile products. This new technology offers our consumers a non-interruptive way to engage with advertising in exchange for accessing premium content and features that they value."
For more information on the Selectable Media platform, please visit: http://selectablemedia.com/.
About Selectable Media
Selectable Media enables consumers to unlock digital content and services in exchange for viewing and interacting with brand advertising. Selectable Media partners with content providers across PC, mobile and tablet devices to deliver user selected ads that drive key brand health metrics. Selectable Media is headquartered in New York, NY. For more information, visit selectablemedia.com.
Source: Selectable Media